with Amy Peloso
Thursday, September 8, 2016
6:00 pm
NOTE OUR NEW LOCATION!
Baker Hostetler
45 Rockefeller Plaza
Our Host: Dennis Cohen
Managers face the ongoing challenge of keeping their staff consistently engaged, productive and loyal. But, with a growing awareness of health and wellness, the standard tchotchkes, happy hours, and birthday cakes aren't cutting it anymore.
Does the availability of healthy foods and activities really have a positive impact on employee engagement? Nowadays, it certainly does.
Join our discussion and learn why managers are shifting their perspective to focus on the employee in a holistic manner as a way to generate motivation and success.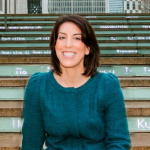 Amy, who works for ohmygreen (a wellness company that provides healthy food and beverages and wellness programs to employers) is watching the trends on both the east and west coasts and will share her insights with the group.
Amy Peloso works as the Director of Client Management for ohmygreen (www.ohmygreen.com), ensuring that clients are pleased and satisfied with their products and services. She made her rounds working in corporate America (at American Express, AstraZeneca, and Hearst Magazines), non-profit, solopreneurship and now the start-up world. She's a keen observer and loves to educate and share her insights, experience and counsel to benefit individuals and grow companies.
We look forward to seeing you at our new venue.
Please email RSVP@TMGR.COM to let us know you plan to attend.
Please check in with the security desk in the lobby when you arrive.