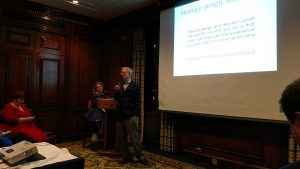 When we think about the traditional rules of business, general platitudes come to mind like "Go above and beyond," or "The customer is always right." However, service design is changing the way we do business. With these changes creating leaner business models and more streamlined sales, we should accept that there are new lessons to learn and new ways of interacting with customers. This quarter's Thought Leaders in Business featured Tom Steward and Patricia O'Connell, authors of Woo, Wow, and Win! Service Design, Strategy, and the Art of Customer Delight. Tom and Patricia explored some of these lessons in our most recent Thought Leaders in Business, and some of them may surprise you.
Forget What You Learned from Manufacturing
Almost every business "rule" that we've learned is tailored to fit a manufacturing business model, but many of these rules don't fit anywhere in a service design business. Service design is much more flexible because when the product we sell is a service we're incorporating the human element. Service design customers are incredibly hands-on throughout the selling process. This real-time customer engagement with the service you're selling leaves room for instant feedback and can cause some hiccups as no interaction is identical. However, this unique flexibility also allows you to maintain a much closer connection with your customers and provide them with a better, more tailored service – for both you and them.
No Heroics
When a customer purchases a manufactured product, it's finished. The expectation is that that product will be fine-tuned, excellent, and consistent. This heroic sense of excellence has been lauded as the necessary but difficult-to-achieve goal for many organizations. However, when you apply this lesson from manufacturing to service design, it doesn't translate well. Service design professionals attempt to meet this goal of excellence by going "above and beyond." The problem is that you cannot maintain any sense of consistency with your customers when you work to exceed their expectations. Service design focuses on lean production and lean consumption – any extra "above and beyond" heroics creates confusion, and adds additional steps to what should be a streamlined, and most importantly, consistent process.
Don't Surprise Your Customer
Related to this idea of maintaining consistency in your service design business is the concept of surprising your customer. The idea that businesses need to "surprise and delight" their customers is completely wrong for the service design business model. Nobody likes to be surprised when they're expecting a specific service. Surprises create inconsistency in the expectations of your customers. Have you ever heard of a hair stylist surprising their customer with a new color or style they didn't ask for? If you have, I doubt the "surprise" story had a happy ending.
Additionally, a customer shouldn't be surprised when you complete the services they expect from you. In general, surprises don't go over well in service design. Instead of surprising your customers, focus on delighting them by meeting their expectations. Let the quality of your work speak for itself – no surprises necessary.
Final Thoughts
The rules of business that have been drilled into the minds of business owners through countless seminars, articles, and white papers the world over make sense…for traditional product-based manufacturing businesses. Service design is its own unique business model, and should be treated as such. Whether your service business is B2C or B2B, you deserve to follow "rules" that don't limit you and your business's growth potential. The different set of expectations for both service providers and customers in service design are necessary. Tom Stewart and Patricia O'Connell gave an amazing presentation at Thought Leaders in Business. Stay tuned for the video to follow.
Stay tuned for the video capturing this event, and check out the slide show presentation here.