with 
Gerard Boucher
Tuesday, August 4, 2015
6:00 pm
Yale Club, Room TBA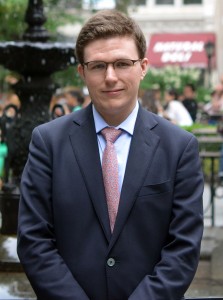 Everyone knows that digital media is something they – and their organization – need to embrace. References to today's digital world are all around us and there is a sense of urgency to adopt digital marketing techniques in your business or be left behind.
The vital questions about the use of digital media are:
For whom and for what purposes is it the optimal communications choice
How and when should it be used
What are the best ROI metrics by which it can be measured
It's clear that digital media plays a leading role in today's marketing for organizations small and large alike. However, is digital media the right fit for everyone? Does social media produce sales? Do small businesses need to be on Facebook? These questions must be discussed to unlock the true benefits of digital media.
The right balance between sales and thought leadership is hard to strike, but when it's struck the returns can be large and lasting. When you lay the right digital media foundation in your organization, ROI is clear, present, and scalable for years to come. In this talk, you will learn the specific tools needed to unleash hidden ROI in digital media and fuel your organization's short and long-term goals.
Gerard Boucher, Founder and CEO of Boucher + Co., launched his first website when he was just 8 years old. Since then, he operated a leading entertainment website for nearly a decade, and learned the secrets to building a successful brand and customer loyalty. Under his leadership, Gerard has implemented successful digital media campaigns for over 50 companies across many industries, and established Boucher + Co. as a leading marketing agency in the New York market.
We look forward to seeing you at the Yale Club.  Please check with the front desk on the exact meeting location when you arrive.